Seeing all of Tuscany in one day is impossible. But what about seeing all of Tuscany's highlights in one day? Now that's a different story!
During our last trip to Florence, we decided to book the Best of Tuscany Tour with Walkabout Florence, to experience Tuscan culture, outside of the region's capital city, in just one day. Let's see how it went…
Our Best of Tuscany Tour included stops in Siena, San Gimignano, Pisa, and an all-organic farm and winery where we savored an Italian feast of only the freshest ingredients — and of course, that was our favorite part.
While in Tuscany, you shouldn't miss Siena, San Gimignano, or Pisa — even if you're pressed for time. Let's take a look at these three towns (and the farmhouse!), to see why Walkabout Florence considers them the "Best of Tuscany!"
Siena
Upon arrival in Siena, we met up with a local Sienese guide, to learn all about Siena's history, traditions, and culture. One tradition interested us most, though…
Siena is famous for the Palio di Siena, in which each of the city's 17 contrada (or districts) compete against each other in a bi-annual horse race in the city's main piazza. The Palio di Siena has occurred since at least the 6th century, and it's a unique event that you won't find anywhere else in the world. The race takes place twice per year, on July 2nd and August 16th.
Palio fills the air with excitement and joy, and it's infectious. People come from all over the globe to experience this medieval tradition, complete with a parade, horse-blessing ceremony, flag throwing, historical costumes, and of course, the horse race itself. It's safe to say that for the entire city, and especially the winning contrada, Palio is a huge deal. And if you ask us, it's also one for your bucket list.
During our visit to Siena, Palio was in full swing! The event is four days long (the race occurs on the fourth day), and we were lucky enough to be there for the horse-selection day. However, we didn't stick around long, as we had three stops left and much more of Siena to see!
---
OTHER ITALY POSTS:
---
Aside from Palio, Siena itself is one of the most charming cities you'll ever visit.
As you walk through the cobblestone streets of Siena, you'll notice the brightly colored shutters, the centuries-old buildings, and a sense of extreme pride, which emanates from each Sienese local — not to mention the flags and decorations that signify each contrada as you walk through the city!
Another highlight of Siena, is the Duomo, which is regarded as one of Italy's best examples of a Romanesque-Gothic cathedral. It is a true Tuscan gem, a masterpiece, even.
Throughout our travels, we've visited dozens and dozens of cathedrals. Not many of them, however, compare to this one. Every surface of the Duomo di Siena, inside and out, is adorned with something intricate and dazzling, from the elegant paneled floor, to the green and white-striped pillars, to the library of frescos.
Everywhere you look, you'll find works by world-renowned artists like Michelangelo, Donatello, Pinturicchio, and Pisano, and they'll all truly blow you away.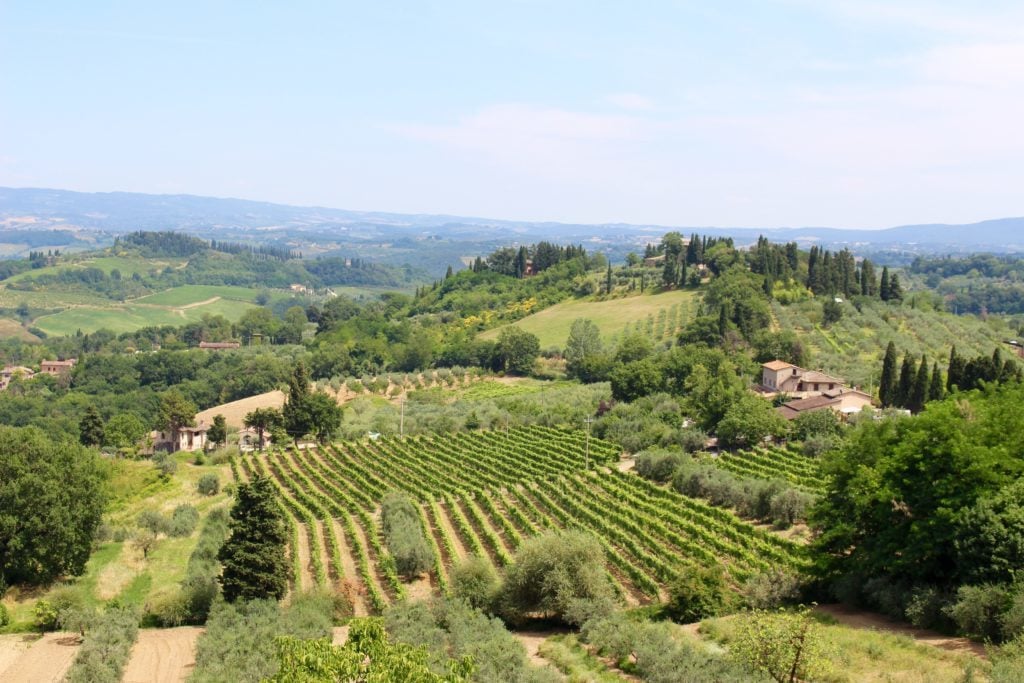 Fattoria Poggio Alloro
Fattoria Poggio Alloro is the gorgeous farm and winery we visited and toured for lunch, which lies just minutes outside of San Gimignano.
Before we feasted, we walked through the vineyards, learned about olive oil and wine-making processes, and savored the views of rolling hills, vineyards, and cypress trees, all under the hot Tuscan sun.
And then came the best part! Guys, is there anything in this world that's better than a long, leisurely Italian lunch?
The menu consisted of olive oil, freshly baked bread, cured salami and prosciutto, local cheeses, garden salad, and fresh pasta Bolognese. Everything, save for the local cheeses, was produced on this family's land, and it was all heavenly.
But it even gets better. We also sampled three full bottles of wine, produced at that very vineyard: white wine, cabernet, and Chianti.
We ended up shipping home a case of wine, along with a big bottle of incredible extra-virgin olive oil that you simply can't get back in the States. How can you resist that type of goodness? How?
To this day, and after three long trips to Italy, this experience is the one that sticks out most. So thank you for that, Walkabout Florence!
San Gimignano
There are so many reasons to visit the quaint medieval town of San Gimignano! But one of the most important reasons involves an Italian dietary staple: gelato.
Gelateria Dondoli, which stands proudly in the town's main piazza, is a winner of the Gelato World Championship! Some say that Master Gelato Maker, Sergio Dondoli, makes the world's best gelato; and we can't say we disagree!
This was our second visit to San Gimignano and Gelateria Dondoli, meaning that we've tried about 20 of Dondoli's signature flavors. And as you can imagine, they're all ridiculously delish!
Sergio Dondoli himself also often stands outside the shop, happily chatting with his customers as they wait in his long line — and that makes the experience all the better; he's a total sweetheart.
As we wandered, we really felt like we'd gone back in time.
The trick to achieving this, though, is to stray from the main piazza and shopping street, which are congested with souvenir shops and tourists. This town is tiny, but it's still possible to wander away from the center and find some alleys to wander in peace, to take in all of the little details.
In the short time we had in San Gimignano, we also climbed a few of the centuries-old towers for the most amazing views of Tuscany below. When I made it to the top, I really began to understand the phrase "breathtaking views." Because it was hot outside, and there were so many steps to climb for those views… Duh!
No, not really.
Tuscany's beauty is something else, and it absolutely steals your breath away. Especially when you're experiencing it all from a medieval tower, inside a 13th-century walled city, on a gorgeous summer's day.
I think we probably could have stayed in San Gimignano for a few hours more, simply to admire the stunning vistas. Yet, we had one more stop to make in Pisa, after taking a scenic route to get there…
Pisa
Pisa was our last stop! Because apparently, you can't see the highlights of Tuscany, without stopping at the Leaning Tower of Pisa. After all, it is one of the world's most famous monuments!
We had about an hour to explore Pisa on our own, allowing a chance to climb the tower, check out a museum, or grab a bite to eat.
After, we went on a quick guided tour to learn about Pisa's history, before hopping back on the coach bus to Florence!
It was an exhausting day of exploring, but it was oh-so worth it to see the best of Tuscany in one day.
Tuscany in One Day: The Best of Tuscany Tour
During your time in Florence, we highly recommend booking the Best of Tuscany Tour with Walkabout Florence. We traveled on a full-day tour, with a fun, knowledgeable guide, to all of the aforementioned stops. We learned about the history, traditions, and culture of each city, ate the world's best gelato, drank (probably too much) wine, and experienced the unrivaled beauty of Tuscany. In all honesty, you can't ask for anything more than that while experiencing Tuscany in one day.
All the details:
The tour departs from Florence daily, at 8:30 am
The tour is 12 hours long
The tour costs about

€

90

for adults and

€85 for youth

You can find more information and book your Best of Tuscany Tour here.
---
What to Pack for Italy
Depending on the season you visit will depend on the layers you need, summer is very warm but the winter is incredibly cold. Italy is very stylish and Italians famously dress well, so avoid white sneakers where possible and opt for a smart shoe or boot. Always have a beautiful coat in winter, it will hide anything less stylish you may be wearing as you explore in the colder months.
Here are a few top tips of what to wear:
Italy Quick Tips
OTHER ITALY POSTS:
Have you visited Siena, San Gimignano, or Pisa before? Are any of these cities on your to-do list? Have you tried to tackle Tuscany in one day?
We experienced the Best of Tuscany Tour as guests of Walkabout Florence, but as always, all opinions are our own!