Hidden away along a stretch of white sand, in the mountainous, jungle-covered state of Nayarit, awaits your dream Mexican beach vacation. San Francisco, Mexico (more commonly known as San Pancho, Mexico) is a vibrant and cool, yet tiny, laid-back beach community that'll steal your heart and leave you feeling refreshed and inspired.
A stone's throw from bustling and touristy Sayulita, San Pancho is a breath of tropical, fresh air. In San Pancho, traditional Mexican eateries, street food stalls, and local artisan markets mix effortlessly with cool cafés, internationally inspired restaurants, cocktail bars, and boho-chic shops and idyllic boutique hotels.
And did I mention, the beaches? Well, palm-tree-lined shores, great surf, and stunning sunsets at Playa San Pancho (San Pancho Beach) will make you never want to leave.
In this guide, you'll find everything you need to know for your trip to San Pancho – including the best things to do in San Pancho, where to eat, where to stay, and plenty of practical tips!
Plus, if you love to volunteer while you travel, the big-hearted locals of San Pancho will welcome you to join in on their recycling, turtle-saving, and other amazing, life-giving initiatives.
San Pancho, Mexico Travel Guide:
Everything You Need to Know
This travel guide to San Pancho, Mexico has it all.
Feel free to use this table of contents to jump to specific San Pancho content – or simply read on!
Is San Pancho Worth Visiting?
Tourists love nearby Sayulita, Puerto Vallarta, and Punta Mita… But we're after something a little different, a little more authentic. Aren't we? Even though San Pancho lies just 10 minutes north of Sayulita, it feels a world away.
So the answer is yes; San Pancho, Mexico is absolutely worth visiting. For a day, for a week, or even longer.
Here, balmy beach days breeze by into low-key nights filled with delicious seafood, Pacificos, chili mezcal margaritas (my go-to cocktail, always!), laughter, and salsa dancing to live music in the streets – interrupted only by the most incredible of sunsets. And, of course, beach vendors selling jewelry.
Take it from me; I stumbled upon San Pancho, Mexico by accident… And then ended up staying a lot longer than I had originally planned! This hidden gem of a place is definitely worth visiting.
MORE MEXICO TRAVEL INSPIRATION
What to Expect from San Francisco (San Pancho), Nayarit
This tiny slice of paradise offers everything you could want in a beach getaway. Like…
An authentic Mexican beach town vibe
Indigenous Huichol culture
A quaint and quiet, yet lively and colorful atmosphere
A long, endlessly beautiful stretch of pristine, palm-tree-lined beach
Nature activities, like hiking, horseback riding, whale watching, and snorkeling
Great surf (when there's swell!)
Fresh-off-the-hook seafood (Ever had a marlin burrito before? Life-changing.)
A surprising array of delicious cafés, restaurants, local eateries, and street food stalls
Opportunities to give back to the community (there are many incredible organizations to volunteer with)
Sandy beach bars, cocktail bars, and even a couple of local breweries!
Yoga and pilates studios, spas, and gyms
Boho-luxe boutique shops filled with clothes, homewares, and souvenirs you actually want
A vibrant weekly food and artisan market
Everything in walking distance
The most incredible sunsets
And those are just some of the reasons why I know you're going to love San Pancho!
Quick Facts About San Pancho
San Pancho is located on the Pacific Ocean; more specifically in the Bay of Banderas, in the tiny, green, mountainous state of Nayarit, Mexico.
The nearest international airport is Puerto Vallarta (PVR), located about an hour south of San Pancho.
Roughly 3,000 people live in this quaint fishing village.
San Pancho is known as the cultural capital of the indigenous Huichol people; you'll start to understand Huichol culture through the colorful artwork sold in shops and at street market stalls around town. From intricately painted wooden bowls, to beaded cow heads and yarn paintings, you'll definitely want to bring their art home with you.
San Pancho is home to a small, yet thriving activist community (of both locals and ex-pats!), passionate about supporting the environment and local people and animals in need. From Entreamigos and San Pancho Animales to Project Tortuga and Casa Chucho, this is an amazing community you'll be more than happy to support!
Day Trip? Or Stay Overnight?
Whether you come for a day or a week, the important thing is that you do!
You can easily take a day trip to San Pancho from Sayulita (10 minutes away) or Punta Mita (35 minutes away) or Puerto Vallarta (1 hour away). But there's plenty to hold your interest here for a week, if you have the time!
Since I live on and off as a digital nomad in Mexico, my most recent trip to San Pancho was six weeks long. If you're working online, you could easily stay for a month in San Pancho.
Where to Stay in San Pancho
Great accommodation options in San Pancho are pretty limited. This is a small town, after all! But I've got you covered.
Here are my top recommendations on where to stay, in order of preference! No doubt, if you can stay at the Agua de Luna Boutique Hotel, you should!
Affordable Luxe Accommodation ($$$)
Agua de Luna Boutique Hotel: Beach-chic design meets luxury at this beautiful adults-only boutique hotel. While it's not beachfront, this hotel is tucked into a cute, quiet corner of town (five minutes walking from the beach). There's a lovely saltwater pool and jacuzzi – and the café attached has the best smoothies and healthy breakfasts! Agua de Luna also offers a co-working area and fast, reliable wifi throughout the hotel. Click here to book it.
PAL.MAR Hotel Tropical: Say hello to your tropical oasis in San Pancho. Spacious and bright guest suites, extra-comfortable beds, a sweet little pool, and Mexican contemporary design await you at PAL.MAR. Click here to book it.
Mid-Range Accommodation ($$)
Hotel Ysuri San Pancho: Cute, palapa-style bungalows give way to an expansive grass lawn and a pool that back right up to the main beach, Playa San Pancho. Morning beach walks, waves, and sunset drinks are all just steps from your front door. Click here to book it.
Hotel Cielo Rojo: This cute little hotel is surrounded by boutique shops and restaurants, just a 5-minute walk from the beach. You'll love their Organic Bistro (yum!), leafy garden, plunge pool, and warm hospitality. Click here to book it.
Budget Accommodation ($)
Ready to book your Mexico trip now? These are my go-to sites to snag the best deals!
Best Things to Do in San Pancho
For a tiny fishing village, there's a surprising amount of fun things to do in San Pancho – and in the surrounding areas.
From surfing and savoring a San Pancho sunset, to whale watching, boating out to the Marieta Islands, and exploring nearby Sayulita, here are the best things to do in San Pancho!
1. Watch the Sunset
How can I not kick off this list of the best things to do in San Pancho with anything other than watching a magnificent sunset?
The sunsets are seriously next-level here… Pretty much every evening.
Everyone (and their dogs!) in San Pancho tries to make it down to the beach to watch the sun set. Followed up by drinks and dancing at the beach bar, La Tarraya.
My favorite part? Everyone claps and whoops when the sun sinks below the horizon. Once the spectacular show is over. So quirky, I love it.
2. Hang Out at Playa San Pancho
With blue skies, tall palm trees, and green mountains as the backdrop, and warm waves crashing onto the white sandy shore, the beach in San Pancho couldn't be more beautiful!
Unlike Sayulita's main beach (which is packed with people, restaurants, vendors, massage huts, and lounge chairs), San Pancho's Beach has just enough of that. But more so, plenty of pristine beach and peaceful vibes.
There are lounge chairs with umbrellas for rent – for 200 pesos per chair (umbrella included), for the whole day.
My pro tip? You can hang out at a shady table on the sand at La Terraya all day long, as long as you're buying food/drinks. I don't know about you, but I'd rather spend 200 pesos on five Pacificos!
You could easily hang out at San Pancho Beach all day long, soaking up the sun and tranquility. And if you're lucky, a mariachi band or a jazz act will appear to serenade you.
P.S. Banangrams is the game we're playing in the picture above. Such a fun game to travel with! Get it here.
3. Go Surfing
Surfing is another one of the best things to do in San Pancho.
San Pancho is a beach break, and when a decent swell comes in, the waves can get pretty big. The surf is pretty consistent daily, and it's good for all levels.
I'm not personally big into surfing, but my boyfriend is. We spent a few months in the area, and found that the surf was been so much better in San Pancho than in Sayulita; the waves were generally bigger and better, and the line-up atmosphere is a lot friendlier – amongst both locals and travelers. But also, it's way less crowded. (Like night and day, compared to Sayulita.)
If you're in the Riviera Nayarit to surf, you won't be disappointed by the waves in San Pancho.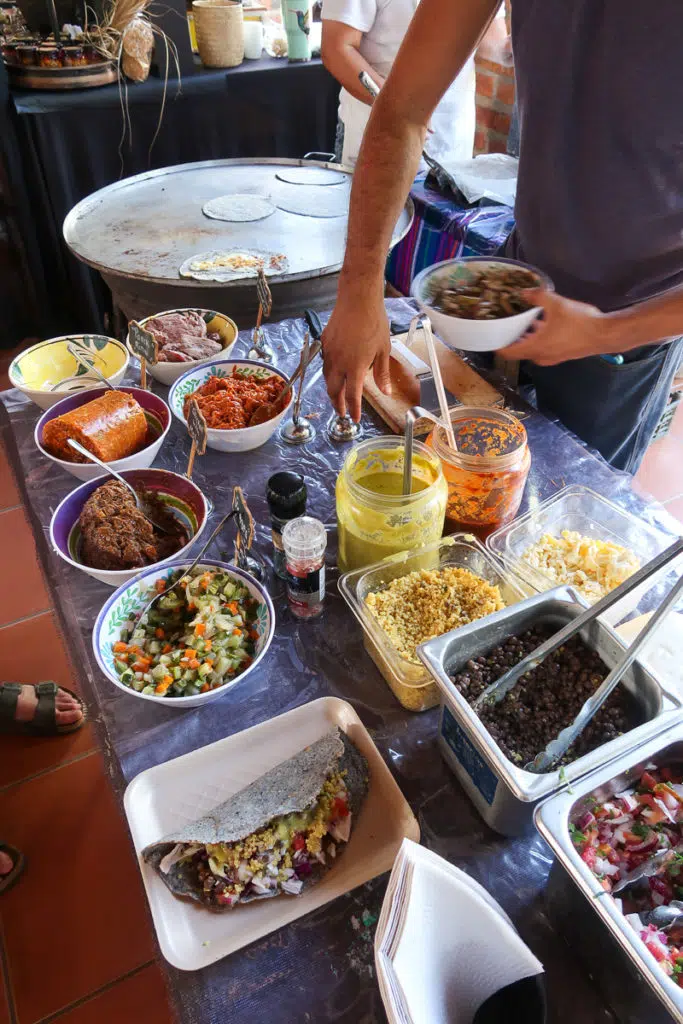 4. Browse the Tuesday Market
To really get a sense of what San Pancho is all about, head to the Tuesday morning artisanal market at the Plaza del Sol.
Here, you'll find a bustling, friendly atmosphere, where locals and travelers come together to share organic produce, Huichol art, handmade beauty products, local clothing brands, Oaxacan rugs and tapestries, delicious made-to-order food, paintings on indigenous bark paper (amate), and so much more. From mole to salsa roja, you can bring the flavors of México home with you.
5. Watch Live Music
San Pancho has a knack for attracting beyond talented musicians. It's a privilege to enjoy!
From impromptu beach performances to amazing booked acts at restaurants, the music flows in San Pancho. And you're pretty much obligated to dance along.
The San Pancho Music Festival is held annually on the last weekend of February. It's free to attend, but donations are welcome to support the performers.
Plus, if you have a chance to see Batalá San Pancho (Batalá is an international samba reggae music project) perform, then you're in for a heart-exploding spectacle of epic, rhythmic drumming, dance, and good times. Their Día de Muertos processions were something I'll never forget!
6. Hike to Playa Malpaso (Secret Beach)
Craving a beautiful, secluded, seemingly undiscovered beach, without the chaos of beach bars and vendors trying to sell you everything from snacks and oysters to jewelry and bowls?
Then hike to Playa Malpaso.
This semi-secret beach, located in between San Pancho and Sayulita, is breath-takingly beautiful – and there's a good chance you'll have the place all to yourself! You can only reach Playa Malpaso by hiking the nature trail from one of the two towns. Ask any local to point you in the direction of the trailhead, or follow this AllTrails guide.
Make sure to bring natural bug spray for the jungle trail! Water, sunscreen, and anything else you'll need. There aren't any restaurants or snack shacks at this beach.
Beware: Never leave valuables unattended on the beach while you swim, as there have been many reports of theft at Playa Malpaso.
7. Take a Yoga or Pilates Class
If you don't practice yoga while in San Pancho, you're missing out.
I attended a few yoga classes at El Estar, and each time, the experience was absolutely sublime.
The teachers I met and classes I attended were incredible, but the setting is equally fabulous! The bamboo yoga shala is airy as can be, and the sound of trickling water (from the water feature) is the perfect soundtrack to a hot and sweaty vinyasa or deeply relaxing yin class.
If reformer pilates is more your speed, then Pilates San Pancho is your place. There's also acro yoga classes in town.
8. Stop By (And Volunteer at) Entreamigos
Entre amigos translates to among friends in Spanish, and the name sums up this San Pancho non-profit perfectly. Entreamigos exists to create a more sustainable, conscious, and diverse community through different educational and environmental initiatives.
Upon visiting, you'll feel overwhelmed (in the best way) by the way the community has come together, creatively and intentionally, to offer scholarships, an extensive library, and play and sports areas for the local children, as well as different classes and workshops for everyone; to spearhead the community's recycling efforts (from 2008-2019, Entreamigos collected 78 tons of plastic and 420 tons of glass, and 36 tons of cardboard to recycle!); to create the Eco-Design center, which offers glass upcycling, sewing, screenprinting, and other workshops; and to host community beautification projects that help keep San Pancho (and neighboring communities) clean, colorful, and beautiful! And that's just to name a few of the incredible things happening at Entreamigos.
Make sure to stop for a delicious meal at the vegan cafe, Burrito Piñata. Stay for a workshop (like glass upcycling, so cool!). Browse the local artisan's gallery. Be inspired by the recycling center.
And ask about volunteer opportunities (this organization's amazing work depends on donations and volunteers).
9. Shop at San Pancho's Many Boutiques
As mentioned, San Pancho's streets are lined with beautiful (albeit, pricey) boutiques.
Ready to stock up on handmade swimsuits, beachy linen tops, flowy pants, woven beach bags, stunning clay homewares, and hand-painted ceramics? The best souvenirs are the kinds you actually want to wear – or adorn your home with. This is what you'll find here! And of course, there a handful of surf shops as well.
Some of my favorite shops include:
Elote Arte (pictured above)
Mestiza
Moana
Nativa Surf Shop
10. Salsa Dance at El Gallo
Ready for a big night out? Then take a 10-minute taxi to Sayulita!
Partying (super) hard is not really the vibe in San Pancho. But if you want to salsa dance and drink a few beers or some pulque (a traditional fermented agave drink – TBH it's smiley, and therefore, a love-it-or-hate-it kind of thing), then El Gallo is the best (and most fun!) spot in town.
Don't know how to salsa dance?
No worries, El Gallo hosts Salsa Social every Friday night. It starts out with a one-hour salsa class at 7:30 pm, followed by live music from 8:30 pm. Drink, dance (AKA practice your new skills!), and laugh the night away on the d-floor.
El Gallo also hosts open mic nights and other fun events. Check out their Instagram to see what's on during your visit!
11. Admire San Pancho's Street Art
As you roam around the town, keep your eyes out and you'll notice all of the colorful murals and papel picado – the festive paper strung up from building to building – everywhere!
Two of the best places to see street art in town are in the main plaza (Plaza La Hermandad) and on the lesser-traveled pathway leaving the beach, to the left of the only big beachfront hotel.
12. Get Spiritual in San Pancho
San Pancho locals are spiritually tapped-in. You'd be hard-pressed to walk down the main street (Avenida Tercer Mundo) without passing at least a few posters advertising yoga retreats, sound healings, intuitive dance, temazcal ceremonies, kambo medicinal rituals, and other health and wellness offerings.
If you're curious, why not join in? If I were you, I'd go for temazcal – also known as a sweat lodge.
Steeped in pre-Hispanic, indigenous heritage, sacred temazcal healing rituals have been performed in Mexico for centuries. Among the many benefits are body detoxification, respiratory cleansing, mental clarity, clearer skin, and stress reduction. Plus, it's an amazing cultural experience.
Hot tip: Nirvanna Spa hosts a temazcal ceremony every Friday night in Sayulita. You can book your spot by popping into their San Pancho location.
13. Get a Massage
What would a Mexican beach vacation be without a massage? I usually go to Nirvanna Spa, though El Estar (the yoga studio), Angelical Spa, and the spa inside of the Punto Las Olas marketalso offer massages.
You can expect to pay around $40 USD for a 60-minute massage. Not great, but not bad either!
14. Take a Day Trip to Sayulita
Sayulita is too close not to visit! There, you'll find a bigger, busier, more touristy version of San Pancho. But don't worry, Sayulita still clings onto enough of its hippy-surfer vibes and magical beach town charm. Especially in the low season of May-October.
While in Sayulita, make sure to…
Have coffee and breakfast at Miscelanea
Browse the many local and artisan markets
Get a massage on the beach
Walk from Sayulita Beach, past the cemetery, over to Playa de Los Muertos
Take a photo on "Selfie Street" (if you must!) and check out the Zócalo (main square)
For lunch, savor fresh ceviche and mariscos at Matiz, sushi at Tierra Viva, fish tacos at Mary's (TBH, I think Mary's is overrated), or wood-fired everything at El Rustico
Indulge in happy hour; pretty much every bar has an amazing happy hour deal on margaritas in Sayu – my favorite is the tangerine margarita for 70 pesos at Lucid
For dinner, eat al pastor tacos in the main plaza, at Tacos De Pastor Diaz (right by YamBak); trust me, order tacos "gringas" al pastor (traditional al pastor with cilantro, onion, and pineapple, but with flour tortillas and cheese… heaven!)
Drink local beer at YamBak
To get to Sayulita from San Pancho, you can either take a quick, 10-minute taxi (for 200 pesos), or make your way to the main highway (Carretera Federal 200) and hop on the green "Compostela" bus heading south. Buses pass by every 30 minutes or so, and the journey costs about 50 pesos. Get off at the first stop. For more transportation information, read on.
15. Go Whale Watching
Humpback whale season in the Bahía de Banderas typically runs from December through March, but if you're lucky, you might see them breaching as early as November and as late as May.
Going on a whale watching tour (departing from Sayulita) is one of the best things to do in San Pancho!
Of course, these tours are only available during whale season.
16. Visit the Marieta Islands
Just off the coast of the Bahía of Banderas lies a small chain of uninhabited islands, the Marieta Islands (or Islas Marietas). A UNESCO-listed biosphere reserve, these islands are home to an impressive array of marine life – offering you a chance to see whales, dolphins, and endangered blue-footed boobies, snorkel with sea turtles and schools of fish on the volcanic reefs, and kayak or paddleboard through sea caves.
From San Pancho, take a 10-minute taxi (or bus) to Sayulita to join one of these tours:
All-Inclusive Full-Day Marietas Islands Boat Tour (from Sayulita): Cruise to Sayulita on this all-inclusive (read: open bar!) boat tour to the islands. When you arrive, paddleboarding, kayaking, snorkeling, fishing, water tubing, floating, or simply admiring the islands' beauty from the top deck are a few of your options. This full-day tour is fun from start to finish, and 6-7 hours long. Click here to book it.
Snorkel in Marietas Island (from Sayulita): On this shorter (3.5-hour), snorkeling tour, you'll have the chance to explore some of the Islas' best underwater environments. Click here to book it.
Scuba Diving Marietas Islands (from Sayulita): Already scuba dive certified? This small-group dive trip to one of Mexico's most popular dive spots is for you. Gliding above this 60,000-year-old volcanic reef, expect to see turtles, puffer fish, dolphins, and more. Click here to book it.
17. Check Out Lo de Marcos
Want to explore more of the Riviera Nayarit? Then make your way up to sleepy Lo de Marcos.
After a 10-minute drive (or an easy bus ride) north, you'll find the most tranquil Mexican beach village you can imagine. If possible, visit Lo de Marcos on Saturday to browse the weekly tianguis (outdoor market) in the main square.
Then, venture down the main street, and check out the shops, before heading to the main Lo de Marcos beach. Walk on the sand, all the way to the left, along the rocks, and you'll be rewarded with yet another unspoiled, peaceful, white-sand beach. You'll likely be the only one there!
18. Cruise the Coast (in Luxury!) to Yelapa
South of Puerto Vallarta is the most charming fishing village of all: Yelapa. If you have time for another day trip, then consider booking a boat excursion – or driving yourself – down there.
On this Mega Yacht All-Inclusive Yelapa Waterfall & Snorkeling Adventure Tour, cruise down the beautiful Pacific coast while eating (bottomless) Mexican food, sipping cocktails from the yacht's premium open bar, and enjoying a massage! When you arrive in Yelapa, choose to relax on the beach or go kayaking, paddle boarding, or snorkeling. Click here to book it.
P.S. If you have time, consider spending a night or two in Yelapa (at Casas Garcia or Casa Vista Magica), rather than taking a day trip. The rustic seaside vibes and tranquility you'll find here are all you need.
Other Things to Do in San Pancho, Mexico
Hike the coastal jungle trail from San Pancho to Sayulita (follow this guide)
Visit the sea turtle nursery or volunteer long-term with Project Tortuga
Drink, dine, and play/watch polo in luxury at La Patrona Polo & Equestrian Club
Take an educational jungle walk through the gardens at Lo de Perla to see countless species of flowers, ferns, butterflies, birds, orchids, cacti, strange insects, and more
Ready to book your Mexico trip now? These are my go-to sites to snag the best deals!
The Best Restaurants & Bars in San Pancho
You'll find the best dining options in all of the Banderas Bay in San Pancho… Which is surprising, given how small this town is! From street tacos and fresh ceviche to homemade pizza and sushi, you can find it all here!
I've tried pretty much every place in San Pancho (at least) once. These eateries listed below are the ones that make the cut! And if you know me, you know I adore food more than anything, so my standards are… the opposite of low.
P.S. This list is accurate and up-to-date for 2023. Sadly, many places have closed since COVID, so some of the other information you see online may no longer be accurate.
San Pancho Cafés; Breakfast, Coffee
San Pancho Restaurants & Eateries
San Pancho Bars
Arigato Bake & Brew: The freshest local and organic ingredients come together to make San Pancho's finest fusion: craft beer, fresh bread, sushi, and Argentine sandwiches. Love it.
Casa Chucho: A casual spot for a post-playa margarita and mezcalita happy hour… With bottomless, gratis tortilla chips and really good salsa. The gourmet tacos are delish as well. All proceeds go to the Wet Noses Rescue in Sayulita, so your refreshment is going to a great cause!
Cervecería Artesenal San Pancho: San Pancho's craft brewery and tap room. Spend a chilled-out evening here, drinking cold beer outside in the warm air, listening to live music. Perfection.
Barpango: Walk through their boho homewares shop to find a cool garden bar in the back, complete with good music, string lights, and minimalist-chic décor.
Dessert in San Pancho:
Chichili Helado Vegano: The only way I am walking by without a passionfruit sorbet is if they're closed. Definitely the best (vegan) ice cream shop in town!
MORE MEXICO TRAVEL INSPIRATION
Helpful San Pancho Travel Tips
How to Get to/from San Pancho
Uber: You can take an Uber from the Puerto Vallarta airport to San Pancho, but you'll need to cross the over-street pedestrian bridge and call it from there (Ubers aren't allowed inside the airport). You'll get a better price this way.
Taxi: From the airport, you can hop straight into a taxi, but you'll pay a premium for it (anywhere from 1000-1500 pesos). But same as with Uber, if you walk across the over-street pedestrian bridge, and hail a taxi from the street, you can get a taxi to San Pancho for between 800-900 pesos. Always negotiate the price with your driver before you get in the taxi!
Getting Around During Your Trip
Walking: San Pancho is tiny, so you can easily walk everywhere!
Buses: The Compostela bus line is useful for getting from San Pancho to other towns in the area. You'll have to walk all the way to the main highway (Carretera Federal 200) and wait outside the restaurant, opposite the Oxxo. Buses heading north and south pass by roughly every 30 minutes.
Taxis: If you want to take a taxi to Puerto Vallarta, Sayulita, Lo de Marcos, or elsewhere, you can find the main taxi hub in town, at the Plaza La Hermandad (where the skatepark is). A taxi to Sayulita costs 200 pesos. (Don't pay more than that!) A taxi to the PVR airport should not cost more than 1000-1200 pesos (if you have surfboards or a big group); if you don't, you should be able to negotiate a price between 800-900 pesos. You can NOT call an Uber from San Pancho.
Rental car: If you plan to explore the Riviera Nayarit in depth, then you may want to rent a car. This is my favorite rental car website for snagging the best rental car prices! Make sure to set Puerto Vallarta Airport (PVR) as your pick-up and drop-off location for best results.
Golf carts: Driving golf carts around town is common. If you prefer, you can rent a golf cart from one of the rental shops in town, for upwards of $50 USD per day. In my opinion, it's not really worth it, but if you have small kids or mobility issues, then this is a great option.
Banks/ATMs
From taxis to food, a lot of your purchases in Nayarit will be cash-only.
There are a few ATMs in San Pancho "downtown", inside of convenience and souvenir shops. There's one in a shop called El Indio (my go-to), and there's also one in the lobby of the Agua de Luna Boutique Hotel. Just to name a couple. The main issue is that you can only get a small amount of pesos out (about $200 USD) and the fees are roughly $10 USD. In the high season, the ATMs run out of cash. Further out of "downtown", you'll come across the Banorte bank and ATM, though the conversion rate here is bad. These are your options in a pinch!
However, your best option is to plan ahead and make use of the ATM at the airport, or at the Intercam Banco in Sayulita whenever you visit. You'll get a reasonable exchange rate, a low fee, and the withdrawal limit is much higher!
Note that the random ATMs you see on the streets in Sayulita are well-known scams. Don't use them. Only use the ATMs at the Intercam bank.
Some vendors and businesses will take USD (at the exchange rate that pleases them!), but obviously, it's always best to pay in the local currency.
Wifi & Co-Working
Need to get work done while in San Pancho? No worries. You can find good wifi and places to work easily.
Amaryya is the best café to work from; the wifi is great and it's quiet. Tons of other digital nomads work from there.
Our long-term rental had fiberoptic wifi; it was fast, though it dropped out sometimes. A little annoying, but manageable. You shouldn't have trouble finding good wifi at your accommodation.
There's also fast and stable wifi available at Entreamigos. But note, it's not exactly ideal for making calls there! The environment is a bit chaotic with the library tables right next to the kids' play area.
What to Pack for San Pancho, Mexico
Quick Tips for San Pancho, Mexico
HOTEL: I use this website for scoring amazing deals on accommodation worldwide. Agua de Luna Boutique Hotel is the ultimate choice here but maybe not in everyone's budget!
HOSTELWORLD: If you're traveling on a budget, this is the best website to score cheap hostel deals.
VACATION RENTAL: I use this site for finding the perfect vacation rental for an unforgettable getaway.
TRAVEL INSURANCE: Never go on a trip without travel insurance! SafetyWing has an awesome monthly subscription for frequent travelers (I currently use SafetyWing).
GUIDED TOURS & EXCURSIONS: Many of the tours I recommend are hosted with Viator, which also works with local tour operators.
CHEAP FLIGHTS: Puerto Vallarta is the obvious choice if you are flying straight in. Get great deals on flights using my favorite flight fare aggregator.
TRAVEL GEAR: A collection of all of my must-have travel gear are all listed here. But most important to remember is bug spray, and suncream, nobody needs bites and burns on their vacation photos! And for those stunning beaches remember to pack your swimsuit!
STAY CONNECTED: Get a local eSIM for your phone so you can use your maps app, talk, text, and post to Instagram without roaming fees!
San Pancho, Mexico FAQs
Is San Pancho worth visiting?
Whether you're taking a day trip or staying for a whole week, San Pancho is well worth visiting. The vibrant and authentic, yet peaceful, fishing village vibes are enough to make you want to stay for a month! Plus, the beach is wildly beautiful, the surf is good, and there are so many fun things to do in San Pancho. This San Pancho travel guide includes all of the best things to do in San Pancho, as well as where to eat, where to stay, how to get there, and plenty of other practical tips.
What is San Pancho known for?
San Pancho, Mexico – officially called San Francisco, Mexico – is known as the cultural heart and hub of the indigenous Huichol people of Mexico, and their amazing art. It's also known as a quiet fishing village, home to a thriving activist community of ex-pats and locals (and plenty of non-profits you can volunteer with), as well as "hippies" and yogis, musicians, a beautiful beach, and excellent restaurants, bars, and cafés. And of course, San Pancho is known to boast Nayarit's most beautiful sunsets.
Why is San Francisco called San Pancho?
In Spanish-speaking countries, Pancho is a common nickname for Francisco. So, San Francisco = San Pancho. Don't ask me why!
Can you swim at San Pancho, Mexico?
Yes, you can definitely swim in San Pancho! Some days, the bay looks more like a lake, totally calm and glistening, with lots of fish jumping out. Other times, big waves crash right on the shore – but once you get past those, you'll be fine!
Is San Pancho better than Sayulita?
It depends what you're looking for, really! If you like big crowds, a constantly lively and bustling atmosphere, always being on the go, and partying a lot, then Sayulita is for you. If you prefer tranquility, beautiful beaches, delicious food, and an all-around more authentic experience, then choose San Pancho. Both towns offer endless outdoor activities, from hiking and surfing to whale watching, fishing, horseback riding, and boating out to the Marieta Islands. While in Sayulita, you'll hear whispers about a cool town called San Pancho, and the fact that it's what Sayulita was 15 years ago – a hub for chilled-out vibes, beach hangs, surf, yoga, and authentic Mexican beach magic. That's how I found out about it – and I definitely prefer it!
When is the best time to visit San Pancho?
The high season in San Pancho is December-May. When June rolls around, many of the restaurants, bars, and hotels shut down partially or completely for the low season (also known as hurricane season!). By mid-October, the town starts to open up again gradually. My choices for the best months to visit would be November, February, and March. In November, hurricane season is pretty much over, the weather is warm and sunny (but not too humid!) almost every day, and it's quiet, but not too quiet! In February and March, it's hot and dry (with very little rain), the town is in full swing, and you'll miss the peak holiday crowds from Christmas, New Years, and Semana Santa.
Is San Pancho safe?
Yes, San Pancho is very, very safe. As always when traveling, make sure to stay away of your surroundings and keep an eye on your belongings – but know that you should feel safe and secure on the streets of San Pancho, any time of day or night. To be sure, always take out a travel insurance policy before you leave home, just in case something goes awry.
SAVE THIS POST ON PINTEREST FOR LATER!
Disclaimer: This post may contain affiliate links. When you click through a link on this page and make a valid purchase, Maddy's Avenue may receive a small commission (at no extra cost to you!). We only recommend products/services that we believe in and know you will love too. Your support enables us to continue making helpful travel content. Thank you for reading, and thank you for your support!