There's a lot to love about the vibrant and vast metropolis of Mexico City. From its rich culture and delicious street tacos, to its lively nightlife and incredible art museums, there's something for everyone. But with so many neighborhoods (there are literally hundreds!) to explore in Mexico City, it can be hard to know where to start.
After visiting Mexico City as a tourist – and then living there as a digital nomad – I've come to know all of the best neighborhoods in Mexico City. And now, I'm going to share them with you!
If you're looking for the coolest barrios in the Mexican capital, then you're in the right place. From boho-chic Condesa and hipster Roma Norte to artsy Coyoacán and the culture-packed Centro Histórico, here are the 10 best neighborhoods to explore in Mexico City!
The Top 10 Best Neighborhoods in Mexico City
1. Coyoacán
Coyoacán is easily my favorite neighborhood in Mexico City, and I know I'm not alone! Coyoacán feels more like a friendly small town that's still hanging onto its traditional roots and romantic charm. In such a bustling, modern city, this peaceful barrio is a breath of fresh air.
Super artsy, the Coyoacán neighborhood plays host to a handful of handicraft and art markets on the weekends. Plus, the mainstay market, Mercado de Coyoacan, is packed with food vendors, grocery stalls, art, traditional clothing, and other souvenirs.
One of the main tourist attractions in Coyoacán (other than Coyoacán itself!), is the Frida Kahlo Museum. Also known as the Blue House, Frida's former family home is now a museum dedicated to her life and art.
What does the perfect day in Coyoacán look like? Coffee in hand (from Coyote Specialty Coffee), stroll along leafy, cobbled streets past colorful homes, cafés, cute boutiques, brilliant murals, and lush parks. Then, brunch on chilaquiles at Los Amantes. Browse the colorful markets and stop by Frida's house. And finally, spend the afternoon, people-watching in beautiful Plaza Hidalgo as it comes alive with music, laughter, and the aromas of street tacos and elote. And lastly, Los Danzantes is the perfect place for mezcal and traditional food in a beautiful setting… Or why not try out the busiest street food stall you can find?
In Coyoacán, there are hidden gems to discover around every corner – the best way to explore Mexico's City's most romantic neighborhoods is on foot, meandering aimlessly. For me this is one of the best neighborhoods in Mexico City.
Staying in Coyoacán
If you really want to immerse yourself in Mexican culture during your stay, book accommodation in the Coyoacán neighborhood.
It's safe, there's a lot more sunshine (due to shorter buildings), the food is good… It's just an all-around good vibe.
Luxury (but still very affordable!)
Mid-range
Budget
2. La Condesa
By far, the coolest neighborhood in Mexico City, La Condesa is trendy, chilled-out, modern, and authentic – filled to the brim with amazing restaurants and cafés (hello, Lardo!), cool bars, hipster coffee shops (like Cucurucho), designer boutiques, bakeries, bookshops, contemporary art galleries, and cute curio shops.
When you arrive in La Condesa, you'll immediately notice the welcoming, relaxed atmosphere, the tree-lined streets, the beautiful buildings.
While you're there, make sure to visit Parque México – where something's always happening. Then, the aim of the game is just to walk around the barrio and explore!
You could easily spend an entire trip to Mexico City just within the confines of La Condesa. It's just so nice. In my opinion, it's the best neighborhood in CDMX, overall. And FYI: the Condesa neighborhoods technically consist of La Condesa, Hipódromo Condesa, Cuauhtémoc, and Hipódromo, so explore them all!
Staying in Condesa
Condesa is the ideal place to stay in Mexico City! You'll have the city's best cafés, great bars, and delicious restaurants at your fingertips. It's walking distance to Chapultepec Park and neighboring Roma – and everything else is an Uber-ride away. Condesa is largely residential, so you can easily find a nice Airbnb.
Here are my recommendations for the best accommodations in Condesa.
Luxury (but still very affordable!) Stays in Condesa
Mid-range Stays in Condesa
3. Roma (Roma Norte, La Romita)
If La Condesa is cool, but classy, then Roma is La Condesa's younger, more rebellious sister. This super lively, hipster neighborhood is another one of the best neighborhoods in Mexico City.
With artisanal beer taprooms and breweries (like Falling Piano), cocktail bars, amazing restaurants (like Contramar for the best seafood!), boutique shopping, coffee shops, indoor bazaars, and contemporary art galleries galore, there is so much to see and do in Roma!
This area is also full of young people – local creatives and ex-pats – so there are plenty of co-working spaces and coffee shops. (My go-to is Cafe Curado, they have great coffee, chilaquiles, and comfy office chairs!) Not to mention, the area is very safe, and there's no shortage of beautiful boutique hotels and sweet little Airbnbs.
Overall, Roma (and specifically, Roma Norte) is a vibe! There's no way you won't love it.
Staying in Roma
Roma is my second pick for the best places to stay in Mexico City! Just like Condesa, you have everything you could ever want right at your doorstep. Here are my recommendations for the best accommodations in Roma.
Luxury (but still affordable!) Stays in Roma
Mid-range Stays in Roma
Budget Stays in Roma
4. City Center (El Centro Histórico)
Mexico City's oldest neighborhood, El Centro Histórico is steeped in indigenous and Mexican history and culture. The atmosphere is lively, local, and colorful and it's where you'll find the city's most ornate, striking colonial buildings, by far!
A must for first-time visitors, the historic center is full of cultural gems to behold. In the Centro Histórico, you'll encounter incredible museums, cathedrals, the busy Zócalo (central square), a variety of impressive architectural styles (you'll feel like you're in Madrid!) – as well as restaurants that are more like Mexican culinary institutions these days.
One restaurant you can't skip? Restaurante El Cardenal, which has been serving locals since 1969! You'll start off with a selection of just-baked pan dulces and their famous hot chocolate (made and served tableside), then you'll move on to dishes like chilaquiles, gorditas, and enchiladas -accompanied by coffee and fresh juice.
Another one of my favorite restaurants (though a bit pricy) is Azúl Histórico. Hands-down, it's one of the most beautiful restaurants I've ever seen and the authentic dishes are absolutely delish.
The Palacio Nacional, which houses the Mexican president, and murals by Diego Rivera depicting Mexico's history, is a must-see. The Catedral Metropolitana, the stunning Palacio de Bellas Artes, and the ancient El Templo Mayor all deserve a spot on your city center itinerary too.
For incredible, rooftop views of the Zócalo central square and a few mezcal cocktails, El Balcón del Zócalo is your place. (Just make sure to book in advance so you can get a great table!) Terraza Gran Hotel is also home to an amazing rooftop bar above the square. Either way, you can't go wrong!
Staying in El Centro
I would not recommend staying in El Centro. It's not that safe at night. And even during the day, you need to be vigilant, it is not known for being one of Mexico City's safest neighborhoods. There are lots of day-time attractions, but not very many great restaurant, bar, or café options (other than what I've listed!) to keep you interested. I'd rather just Uber to El Centro to explore, and then leave when I'm ready.
5. San Angél
San Angél is a quaint, artsy neighborhood complete with two beautiful plazas, boutique shops, old cobblestone streets, and art galleries galore. In comparison to the other neighborhoods listed so far, it's the most off-the-beaten-path.
El Bazar Sábado (Saturday Bazaar) is the main reason to visit San Angél. This sprawling outdoor market brims with super talented artists' paintings and sculptures, handmade silver jewelry and leather huaraches (sandals), handpainted ceramics, beautifully embroidered fabrics, traditional wool blankets, folk art, and so much more. In other words, souvenirs you actually want.
The Museo Casa Estudio Diego Rivera y Frida Kahlo is is another major draw. The museum – also Diego and Frida's former home and art studio – is a functionalist architectural marvel in itself. Seeing inside their private world is like taking a peek into an art-filled fairy tale.
Make sure to stop by Mercado del Carmen too. This trendy, open-air food hall offers dozens of stalls – the perfect place to chill, sip on a mezcal margarita, and sample whatever your heart desires.
Staying in San Angél
I would not recommend staying in San Angél. It's simply too small and there's not enough happening to keep you interested. It's also quite far away from Condesa and Roma!
6. Polanco
So, what's Mexico City's swankiest neighborhood? Easily, the answer is Polanco.
With a sleek, sexy, and fun vibe, Polanco is the neighborhood where you'll find high-end, designer shopping, five-star hotels, the most stylish nightclubs, and some of the most renowned restaurants in the world.
Pujol (which you may have seen on Netflix's Chef's Table) and Quintonil are two of the best restaurants in the entire world! In 2022, they were ranked 9th and 27th, respectively. If you have a bit of cash to splurge, these gourmet dining experiences are well worth it!
(I've been to each one twice, and personally much prefer Quintonil. Read more in my Mexico City Foodie Guide!)
Next-door neighbor to Chapultepec Park, and home to the Museo Nacional de Antropología (which exhibits Mexico's rich indigenous history and their cultures – book a guided tour!), Museo Jumex (a contemporary art museum), Museo Soumaya (classical and modern art museum), there are so many things to do in Polanco!
Stay in Polanco
When only the best will do, Polanco is your place to stay in Mexico City! From the most prestigious restaurants in Mexico and high-end shopping, to lively nightlife, and a fun vibe, Polanco is a great place to stay. 5-star boutique hotels abound, but they are quite affordable compared to other places in the world!
Luxury Stays in Polanco
7. Xochimilco
While the gritty, working-class barrio of Xochimilco is not the safest to explore, there are some lovely churches, tiny alleyways, and colorful streets to explore. But that's not why I'm including Xochimilco in this list of the best neighborhoods in Mexico City!
I'm including it because you can't miss exploring Xochimilco's ancient canals by boat.
Visiting the Floating Gardens of Xochimilco is one of the most authentic, fun, and unique experiences you can have in Mexico City. There's simply nothing like this… anywhere else in the world!
Take an Uber here on a Sunday (around noon) and hire a trajinera to row you around Mexico's best floating party. In a world of color, you'll drink micheladas, eat elote and enchiladas and tacos, listen to mariachis play Cielito Lindo, and have the best time ever.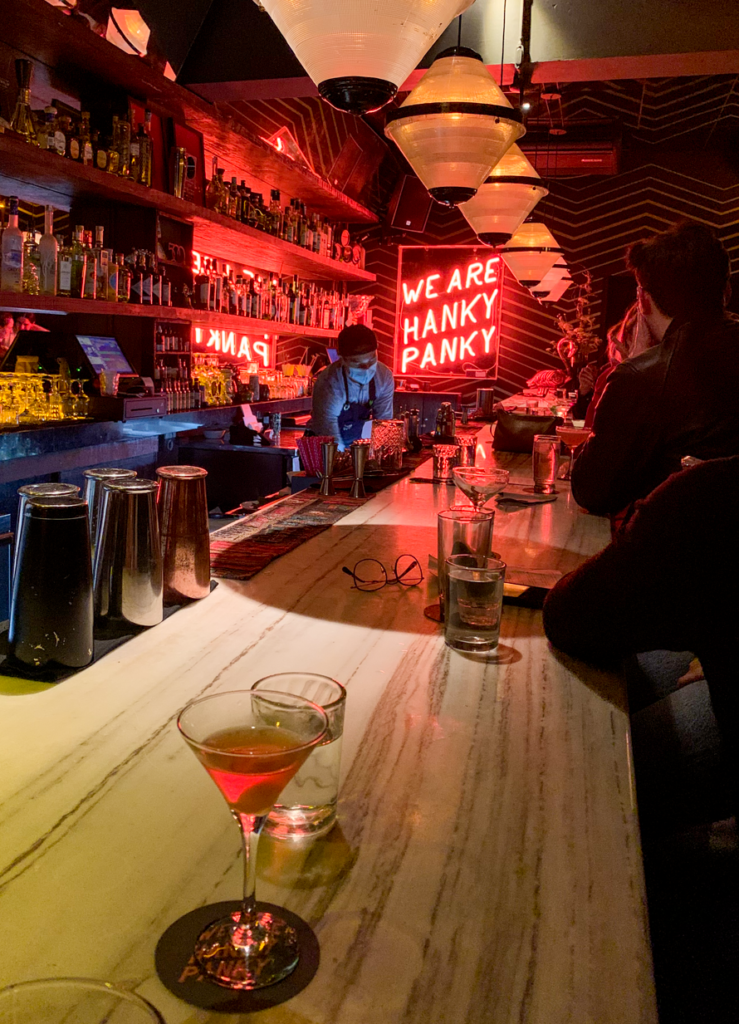 8. Juárez
Juárez is one of the up-and-coming neighborhoods in Mexico City, located just north of Roma Norte.
Eclectic, artsy, and super hipster, but still with a local vibe, Juarez is a great neighborhood to explore on foot and enjoy a few beverages – day or night.
My all-time favorite CDMX cafe, Café Nin, is in Juárez. If you can sniff it out, there's a secret speakeasy called Hanky Panky, which is so cool for after-dinner cocktails. I am also a fan of Jardín Juárez, an outdoor craft beer garden, perfect for a drink in the sunshine.
9. San Rafael
San Rafael is one of the most underrated treasures in Mexico City. With a quirky and creative, yet authentic, residential feel, this historic neighborhood is definitely off-the-beaten-path. But that's what makes it so special, and worth checking out.
San Rafael is known for its beautiful art deco apartment buildings, local taco stands and restaurants, and galleries. The Museo Experimental El Eco is one of the main drawcards of San Rafael – a very experimental, contemporary art gallery full of random-awesome pieces.
Not to mention, the bustling Mercado de San Cosme is one of the city's most historic public markets – and also one of the friendliest markets for visitors.
10. San Miguel Chapultepec
Bordering Condesa to the south, and el Bosque de Chapultepec to the east, San Miguel Chapultepec is a charming, local neighborhood filled with super traditional restaurants, markets, street food stalls, and friendly locals.
I lived in this neighborhood for a month, so of course, I feel obliged to include it. Sleepy. Cute. Friendly. Super local and traditional. If you go, there's a 99.9% chance you'll be the only foreigner, so it's definitely a unique experience!
After you've visited el Bosque de Chapultepec (Mexico City's gigantic central park), feel free to roam the sweet little streets of San Miguel Chapultepec and pop into the art galleries and specialty shops. Have lunch at Martina Fonda Fina (which is super cheap and feels more like grandma's house than a restaurant!) and then grab an ice cream from Amor Casero.
Bonus Neighborhood #1: Zona Rosa
Zona Rosa is not my vibe. But I have to include it because it's the place to go if you're after a super fun, grimy, party-your-face-off scene.
Karaoke bars, salsa clubs, sports bars, cocktail bars, live music resto-pubs, booming nightclubs (and pretty much every other kind of bar and club you can think of) line the streets of Zona Rosa. So if you want to have a crazy night out dancing and drinking – and follow it up with early-morning street tacos and elote (obviously) – then Zona Rosa is your neighborhood.
Word to the wise: To me, this Mexico City neighborhood does not feel safe after dark, so, be vigilant. And chicas, definitely don't walk the streets alone!
During the daytime, there's plenty of shopping to do (commercial shopping, not boutiques), and you can also check out Little Korea. And of course, you can walk along the most famous street in the city, Paseo de la Reforma, and stop by its crown jewel, the Monument of Independence (where Miguel Hidalgo and 13 other Mexican independence heroes are buried).
Bonus Neighborhood #2: Narvarte
The first Mexico City neighborhood I lived in was Narvarte. A local, middle-class neighborhood, this area is known for one thing: street food.
Most famous of all is a place called El Vilsito. Featured on Netflix's Taco Chronicles, this place is a car repair shop by day, and a taco stand by night. If you want to try the best al pastor tacos in all of Mexico City in chilled-out, local atmosphere, then go here. There are also plenty of vegetarian options, if al pastor is not your thing!
Beyond El Vilsito, the Narvarte neighborhood offers hundreds of other street food vendors to try all in walking distance. So find a busy one and give it a go!
Mexico City's 10 Coolest Neighborhoods
Mexico City is a lively, sprawling, mind-blowing, beautiful, delicious city and there are so many neighborhoods to explore.
From Condesa and Roma, to Coyoacán, San Ángel, and Xochimilco, these are the 10 coolest neighborhoods in Mexico City that you can't miss during your next visit!
Mexico City Quick Tips
FAQs about Mexico City's Neighborhoods
What are the best areas to visit in Mexico City?
There are so many interesting neighborhoods to explore in CDMX, so how can you narrow it down? This article covers the 10 best areas to explore in Mexico City, whether you're a first-time visitor or a seasoned explorer! The coolest neighborhoods to visit include bohemian Condesa, hipster Roma, artsy Coyoacán, stylish Polanco, and of course, the culture-packed Centro Histórico.
What are the cool neighborhoods in Mexico City?
The two coolest CDMX neighborhoods to live in are Roma and Condesa. These two areas are safe, full of beautiful tree-lined avenues, and parks. They're home to a young, creative crowd, and packed with gourmet restaurants, trendy cafés, super fun nightlife, quirky boutiques, art galleries, and markets. There are endless things to do and always something happening. In these barrios, you'll never get bored!
What is the

safes

t neighborhood

in Mexico City?
The safest areas in Mexico City for travelers to explore are Roma, Condesa, Polanco, and Coyoacán. It's important to remember, though, that even those these neighborhoods are considered "safe," you still shouldn't let your guard down. Just like anywhere else in the world, there are always going to be safety risks. But you can minimize them by looking out for yourself and following tips like: try to blend in, always pay attention to your surroundings, don't wear flashy jewelry or clothing, and if possible, travel with someone else.
What is the best way to get around Mexico City?
The easiest, safest, and most affordable way to get around Mexico City is via Uber. I took at least 100 Ubers in Mexico City, and the average cost for a 20-minute ride was $2.50. How great is that?
What is the post neighborhood in Mexico City
Polanco is definitely the poshest neighborhood in Mexico City. Here are high-end hotels, world-class restaurants, and designer shopping. It is sleek, sexy, and mostly expensive!
MORE MEXICO TRAVEL INSPIRATION